Deepika Padukone gives a jaw-dropping performance at the Cannes Film Festival's Elvis Presley premiere. Ranveer Singh refers to her as a "queen."
Deepika Padukone wore a dramatic gown with massive sleeves to the Cannes Film Festival's big premiere of the film Elvis.
Deepika Padukone has been surprised her admirers every day at the Cannes Film Festival with her outfit choices. She stepped out on the red carpet in a huge golden and black gown with gigantic sleeves on Wednesday, taking her red carpet style to the next level. This year, she served on the festival's jury and walked the red carpet for the screening of Elvis.
Deepika Padukone's husband Ranveer Singh referred to her as a "Queen" in the comments section after she published a couple of photos of her royal look on Instagram. Her most recent appearance left her followers speechless. "I don't know how many times my jaw has dropped at this point," one fan said. "Really Amazing, Fantastic, Gorgeous!!!!" commented another. "I'm speechless." "Giving out those MALEFICENT feelings!!!" commented another enthusiast. She was even dubbed "The Mother of Cannes" by a fan.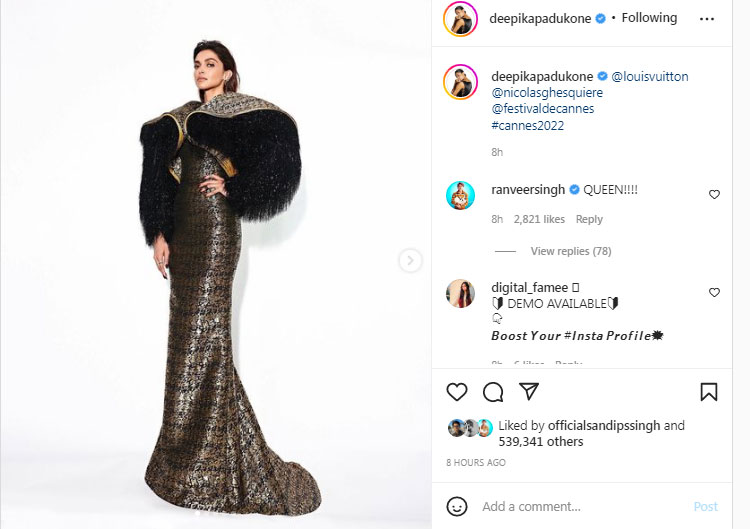 The world premiere of Elvis was a spectacle to remember on Wednesday, probably the glitziest evening of the 12-day festival. The much-anticipated picture by Baz Luhrmann, who hails from Australia, is a characteristic explosion of color and breakneck cutting. Baz walked the red carpet in a tuxedo with a rhinestone Elvis belt buckle and a gleaming ring.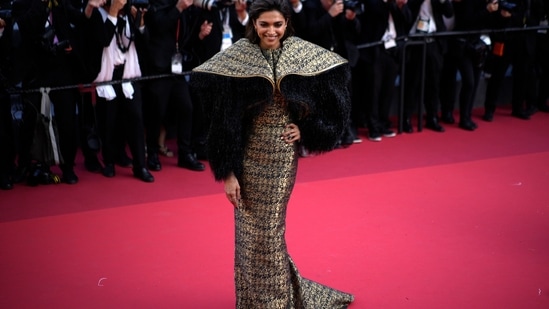 Sharon Stone wore a pair of Elvis-style aviator sunglasses to the premiere, and Brazilian model Adriana Lima wore her baby bulge in what appeared to be an homage to Princess Leia's slave dress from Return of the Jedi.
Deepika had earlier in the day tweeted photos of herself wearing a floral off-shoulder dress and matching floral boots. She had been accompanied by Ranveer at Cannes for several days, but the latter was last seen in Mumbai on Wednesday at filmmaker Karan Johar's birthday event.