Mahesh Babu on the film Adivi Sesh Major: 'I didn't speak for two minutes after the movie ended...'
In significant roles are Adivi Sesh, Sobhita Dhulipala, Prakash Raj, Revathi, and Murali Sharma. On June 3rd, the film will be released.
On Monday, the trailer for Major was unveiled at a special ceremony in Hyderabad. At the trailer event, Adivi Sesh, Saiee Manjrekar, director Sashi Kiran Tikka, and producers Anurag and Sarath were in attendance. Mahesh Babu was also present.
"First and foremost, I am really proud of the entire team of Major and Sony Pictures," Mahesh remarked of the film. We could not have made this beautiful film without their assistance. I saw the movie yesterday (May 8). It had so many scenes that gave me goosebumps. I had a lump in my throat for the last 30 minutes. I'm not making this up. My throat had become parched. I was silent for two minutes after the movie ended.
"Making a biography is a huge responsibility, especially when the story is as compelling as Major Sandeep Unnikrishnan's. As the director stated, this is a critical story that must be told. I am quite pleased with the team. The crew has been congratulating me for the previous two years. But, to be honest, I now owe them gratitude for making such an incredible film and allowing me to be a part of it. "You will enjoy the film when you see it on June 3rd," the actor-producer continued.
Meanwhile, Adivi Sesh was overwhelmed as he stood with his colleagues at the trailer unveiling. The actor talked about the film and its overall message.
"I am here a little bit as Sesh, but a lot as Major Sandeep," Sesh remarked, describing Major as an emotion. This movie meant everything to me. Major Sandeep's parents are extremely important to me. When we develop a film on a great person, the audience expects the great person to excel in all areas of life. However, this is not the case. Major Sandeep, like all of us, had pretty simple things in his life. Friends, childhood crushes, girlfriends, and so forth. But look at what this ordinary individual accomplished! Major is all about it."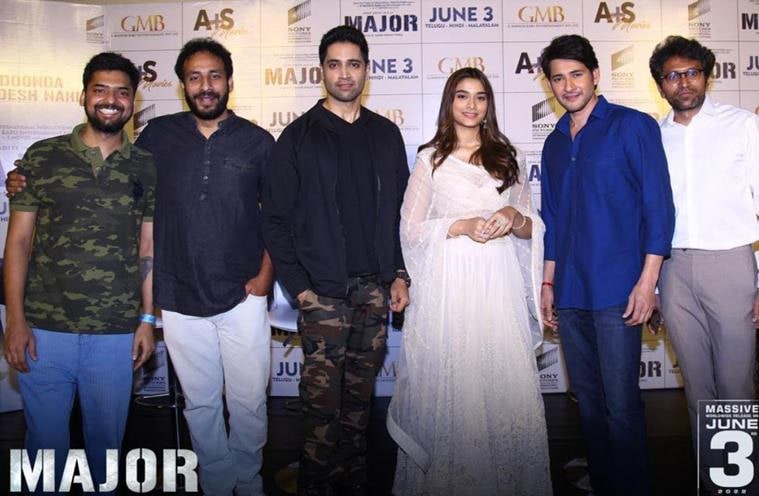 "We didn't make this movie for the sake of marketing since Major Sandeep is India's son." To do honour to Major Sandeep's life, we shot every scene in Hindi and Telugu then dubbed it into Malayalam. The cosmos will back us up if our goals are sincere. The picture was distributed internationally by Sony. Anurag and Sarath, the producers, treated me like brothers and introduced me to Mahesh and Namrata. Mahesh was our backbone, guiding us and supporting the film. We developed this movie as a team to honour Major Sandeep's memory," the actor ended.
Sobhita Dhulipala, Prakash Raj, Revathi, and Murali Sharma all play key parts in Major.
The film will be released in theatres on June 3rd.