'I was bouncing with excitement seeing the reaction to my photo,' Taapsee Pannu says of being trolled for Rashmi Rocket.
Taapsee Pannu opens up on how she got into the skin of an athlete for Rashmi Rocket, the criticism she endured, and whether her definition of success has altered over time.
Taapsee Pannu defines success as people believing in and investing in her films. "I shouldn't be so little that no one cares what I say or do," she insists. Taapsee, who is preparing to release Rashmi Rocket, adds that anything she produces "should be worth the audience's time and attention."
Taapsee has made a name for herself in the film industry and is known for her high-content, issue-driven films. She believes that returning to a traditional commercial cinema will be tough for her. "Some people will raise their eyebrows if I make films that aren't about a certain problem. Now you see my predicament: if my film addresses a problem, there's a part that alleges I only make films with a'mudda,' and if there isn't any, it's a problem as well. So, 'naa chitt meri, naa patt meri,' I'm stuck in a predicament. I've realized that my decisions aren't going to please everyone. "I'd rather make myself happy and build a filmography that I can be proud of," she told indianexpress.com.
In Rashmi Rocket, Taapsee plays a sprinter who is compelled to undergo a gender test and is thereafter barred from the sport due to excessive testosterone levels. She initiates legal action against India's athletics association in order to reclaim her lost respect and identity.
Rashmi Rocket approached Taapsee while she was filming Game Over (2019). "I was surprised that, despite my passion for athletics, I had never heard of gender testing. I ran a Google search and discovered that this is true. So many female athletes are prohibited, and as a result, their lives are ruined in a variety of ways. There is a lot of social shaming that goes on.
Many people commented after seeing the teaser that Rashmi Rocket reminded them of Dutee Chand's true story from 2014. In reality, the picture is set in the same year as the book. Taapsee, on the other hand, claims it isn't a biopic. She explained that they didn't make it about one person's experience on purpose. "We took a bunch of different incidents and combined them into one tale." I refrained from making a full-fledged single-person reference. I saw interviews with athletes from all across the world. Rashmi Vira is the culmination of all of these female athletes' experiences. "It was critical to validate using scientific facts rather than emotions," she explained.
Rashmi Rocket was Taapsee's maiden collaboration with director Akarsh Khurana and actors Priyanshu Painyuli and Abhishek Banerjee. Though she smiled at the irony of Akarsh directing a film about fitness, she noted that he was the greatest choice because it wasn't only a sports picture, but also a human drama.
"Sports are merely a backdrop. Rather than making it look larger than life, we needed someone who could deliver strong storytelling with a heart and soul. "Whistling and clapping become a part of it," Taapsee explained. She also mentioned that it was her first time working with Priyanshu, despite the fact that Akarsh and Anurag Kashyap had both praised his work. "Because he was playing such a role for the first time, Abhishek felt compelled to give it his all. My desire to interact with good actors stems from the fact that my performance improves when I'm among them."
Taapsee put forth a lot of effort to develop an athletic body and muscles. Races and track segments are also among the film's highlights.
Taapsee said it was disheartening when the creators decided to go with an OTT release for Rashmi Rocket, calling it one of the rare films that "has the potential to be that full fledged commercial film coupled with an issue at heart." "You can love the song and dancing, the grandeur, and the adrenaline rush of the races, but at the end of it, you'll cry." Rarely do you come across a script with such a wide range."
"All of the female-driven films I've done so far are about a girl who starts out as an underdog and then becomes the hero of her life." From the first frame, Rashmi is a hero. She was a heroic big screen character for me," she continued.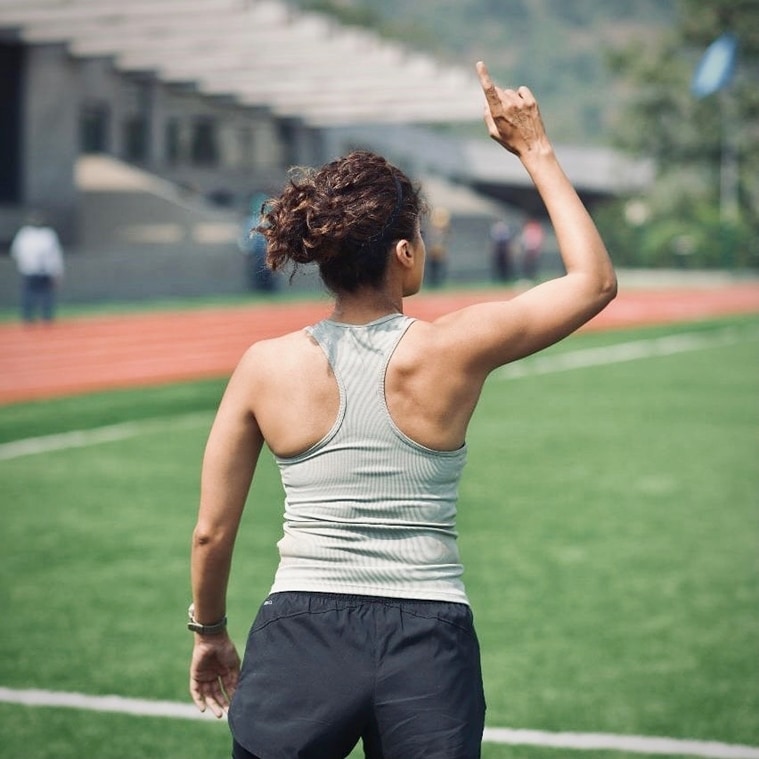 However, only days before the trailer's release, trolls mocked Taapsee for appearing "masculine" in one of the film's stills, labeling her "not enough of a woman." But Taapsee believes she was unfazed by anything because it was the plot of Rashmi Rocket.
"Those trolls handed me a marketing plan on a silver platter. They had no idea what had happened to them. It felt like if you had struck gold; I was giddy with delight when I saw the reaction to my photo. When the trailer was out, I reacted by saying, "If you throw a lemon at me, I'll create lemonade out of it," she exclaimed.
Taapsee has been the subject of some controversy in the past, including I-T raids a few months ago. "They're like speed-breakers," the actor said, "and my car isn't frail enough to fall so readily." And if we don't have such things, life will become too boring (laughs)."

"Obviously, it's human to feel slowed down for a while when any difficulty arises, including IT raids. Either it'll break you or it'll make you stronger. I'd rather become a more powerful individual. That's the one constant, which is fine. I have no objections to these stumbling blocks. "All I want is for my audience to believe in me," she ended.