KCR takes to the national stage with a pitchfork: 'India needs an alternative agenda, not a new front.'
"If Hyderabad sets the agenda for qualitative change in the country, it will be a moment of pride for Telangana," Rao remarked during the party's 21st Foundation Day celebrations.
Telangana Rashtra Samithi (TRS) president and Telangana Chief Minister K Chandrasekhar Rao (KCR) called for the development of a "new political force," stating the country needs an alternative agenda, not new political fronts or realignment, in a clear signal of his national aspirations.
KCR, who has been considering a position in national politics, said at the party's 21st Foundation Day celebrations, "What is essential and desirable are not political fronts." What occurred when so many of these fronts appeared? What is necessary is an alternative agenda, not political realignment. India would retaliate because it seeks an alternative agenda from which a new political force could emerge." He went on to say that the TRS is prepared to play a significant role in the country's future.
KCR pitched himself to the national stage in an hour-and-a-half speech that included references to the TRS' potential role in the nation's development, "water wars and power sector woes" across the country, the alleged "attack on the federal structure" with Governors clashing with some state governments, and how the party has decided to work for the nation's progress in light of the "narrow-minded policies and tendencies" seen in the country.
A few more glimpses of the TRS Party plenary meeting being held at HICC in Hyderabad.#21YearsOfTRS pic.twitter.com/hLNXm8JCte

— TRS Party (@trspartyonline) April 27, 2022

KCR claimed that while Telangana has emerged as a role model for other states, the country as a whole has not fared as well as the state, adding that if the Centre had performed as well as the state government, Telangana would have had a higher state GDP. "It would be a source of pride for Telangana if Hyderabad set the agenda for qualitative transformation in the country," he remarked.
He had discussed forging a non-Congress, non-BJP alliance with regional parties prior to the 2019 elections. He has even sought out to Naveen Patnaik of the Biju Janata Dal (BJD) and Mamta Banerjee of the TMC in an attempt to form a Third Front, arguing that such a front "is vital to ignite a shift in government."
"Communist leaders approached me and stated that we want to bring change to the world and that I should join them." How are we going to accomplish it, I inquired? Their strategy was to destabilize the BJP at the federal level. I told them it was a bad idea... It is up to the people of this country to elect or depose a government... political parties cannot do it," he stated, speaking to the party's 3,000 delegates.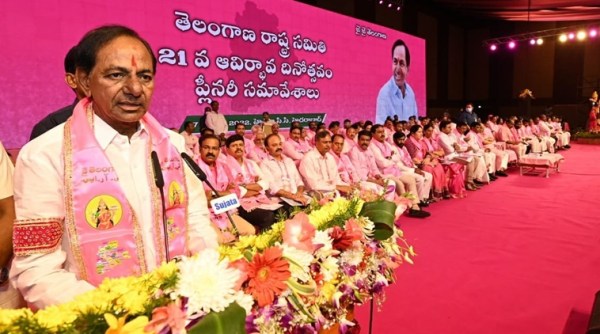 KCR raised the TRS flag before the event began. Several TRS leaders and activists in attendance suggested that the TRS run for national office under the banner 'Bharatiya Rashtra Samithi.'
Despite the country's abundance of natural resources, the CM, who is in his second term, expressed concern over water wars and electricity shortages. People from 11 states come to Telangana for work, he added, not only because of the jobs but also because it is a safe location free of law and order issues.
"These days, what are we hearing?" KCR asked, keeping the focus on national issues. They are abusing someone like Mahatma Gandhi, who left his lawyer's career and spent years fighting for freedom in jails. These folks are worshipping Godse while trashing such a nobleman. Is this our way of life? What is the country's future trajectory? Why is there such a stoking of religious enmity?
"In Bengaluru, more than 30 lakh IT professionals work," KCR remarked, referring to the hijab and halal dispute in neighboring Karnataka. It took a long time for the city to reach that level of development, but what are we seeing now? Controversy over hijab and halal, as well as a boycott of other communities' fruit and flower vendors?"
Later, KCR's son and TRS working president KT Rama Rao assailed the BJP-led Central government's policies, especially paddy procurement, in a political resolution calling for the party to play a significant role in national politics "in the larger benefit of the country."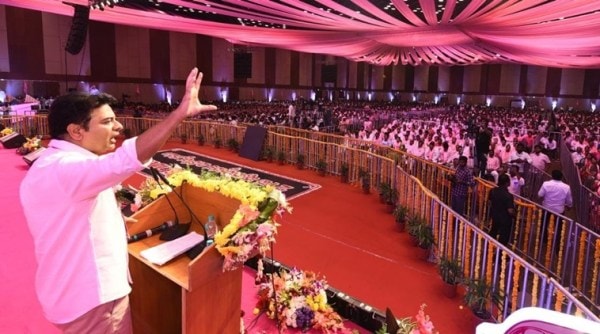 "They say 'Modi hai to mumkin hai (If Modi is there, anything is possible)," Rama Rao stated, alleging that the NDA administration has failed on all fronts and branding it as a "non-performing asset (NPA)." But today, I say, "Modi hai to mushkil hai is desh keliye (Modi's presence is difficult for the country)."
On April 27, 2001, KCR created the TRS with the goal of creating a distinct state of Telangana, which was finally carved out of Andhra Pradesh on June 2, 2014.